New home for sale in Pacific Beach, San Diego: The Plaza condo with resort-like amenities. Top floor with vaulted ceilings and the largest floor plan (1,033 square feet) in the complex. This spacious condo gives you walkability to everything in Pacific Beach, and enough space to comfortably stay at home.
Listed at $499,000 – Sold for $515,000
1775 Diamond Street Court 1 Unit 314:
2 spacious bedrooms with large closets and attached bathrooms
2 bathrooms with plenty of counter space
Open floor plan "great room" with great flow from kitchen, to living room and balcony overlooking pool and hot tub
2 garaged parking spaces, gated and protected from rain and sun.
Top floor unit (no upstairs neighbors) with vaulted ceilings
If you're in the market to buy a home in Pacific Beach, give us a call at (858) 740-8495. We can talk about this condo in detail and see if it's a good fit for your situation. We also know of other condos for sale in PB, including some that you wont see online.
Pictures
About The Plaza
The Plaza complex is the largest community of (individually owned) residential real estate units in Pacific Beach. The complex is situated on 10 acres of land and consists of 502 units:
59 studios
259 one bedroom
66 one bedroom plus den
118 two bedroom
The plaza has 5 courts, with a central hub located at 1801 Diamond St. Each court is a collection of approximately 100 units spread out over three stories.
Each level has it's own laundry room and access to an elevator. Most courts connect to the other courts on several levels, but there is a slight downslope to the south, so Court 1 and Court 2 are higher in elevation than the other three courts.
The Plaza contains 12 laundry rooms and parking for 642 vehicles.
Amenities for The Plaza condos
The Plaza has some of the best amenities in Pacific Beach.
The central hub has the on-site security guard's office, along with the mail room, package-pickup room, billiards room, library, lagoon, and vending machines.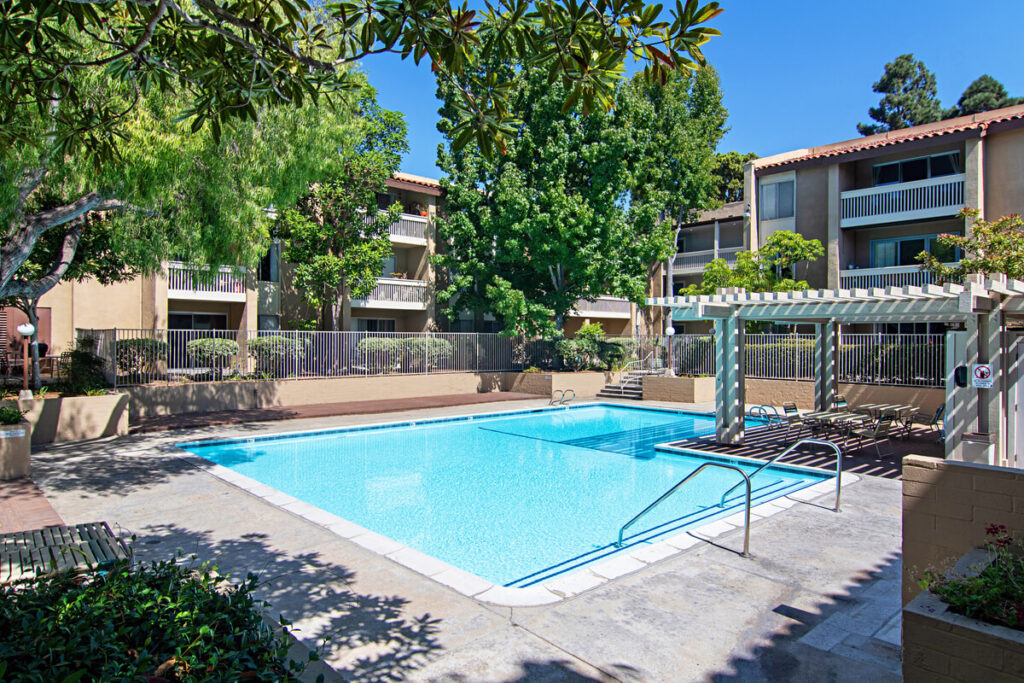 4 Pools
There are 5 courts in the plaza and 4 pools. Courts 1, 2, 4 and 5 all have pools in the middle of the court. Court 3 has the lagoon located in the middle. Two pools are heated year-round and two are heated in the summer and all are kept sparkling clean. They are surrounded by chairs for lounging and are safely fenced, but easily accessible.
The pool area is large enough for both families and social gatherings of all ages to share the space. If a pool area ever gets too busy, you have 3 other pools in the complex that you can use.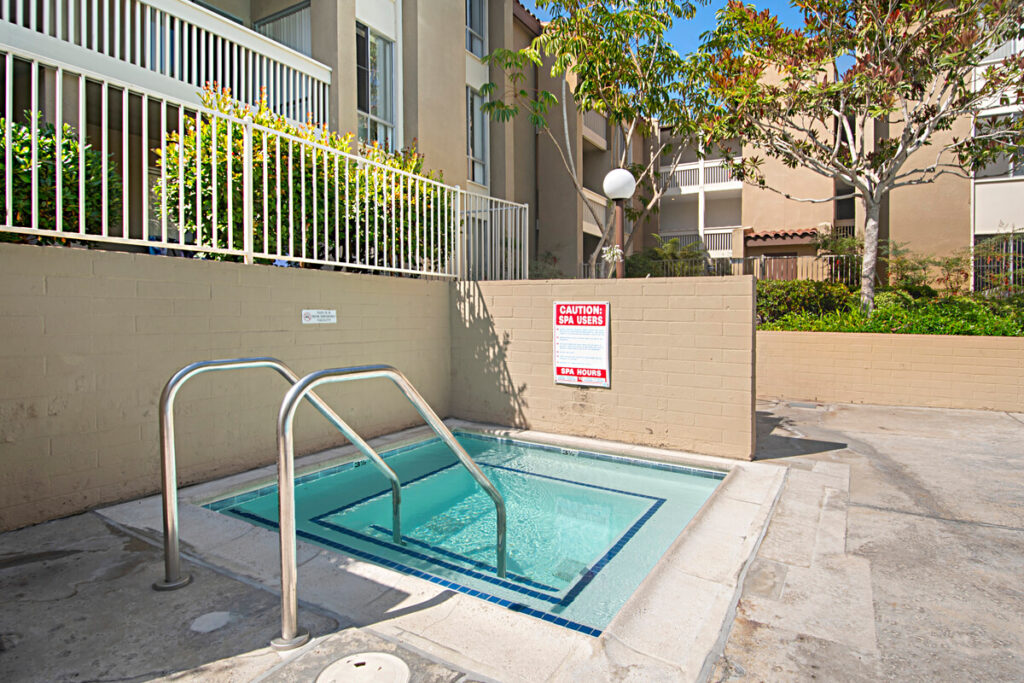 4 hot tubs
The pools are accompanied by hot-tubs, kept warm all year round. Who doesn't love a late night hot tub, or a hot tub session after a gym workout?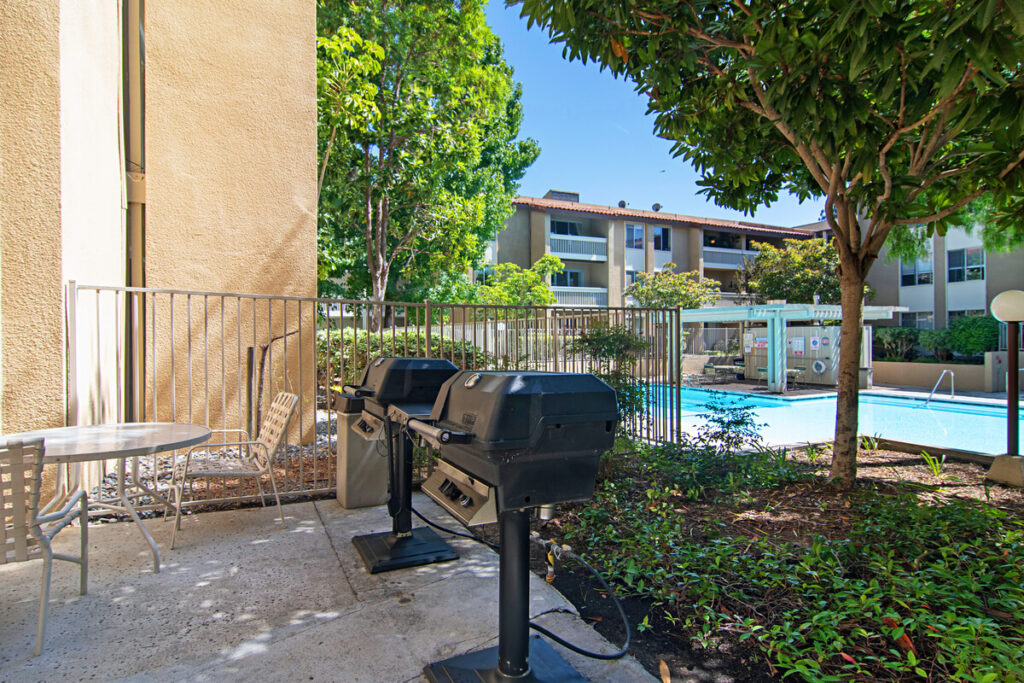 BBQ grills
The community BBQ grills are located within the gated pool area and are hooked up to the community gas lines. This makes it really easy to grill food and hang out by the pool.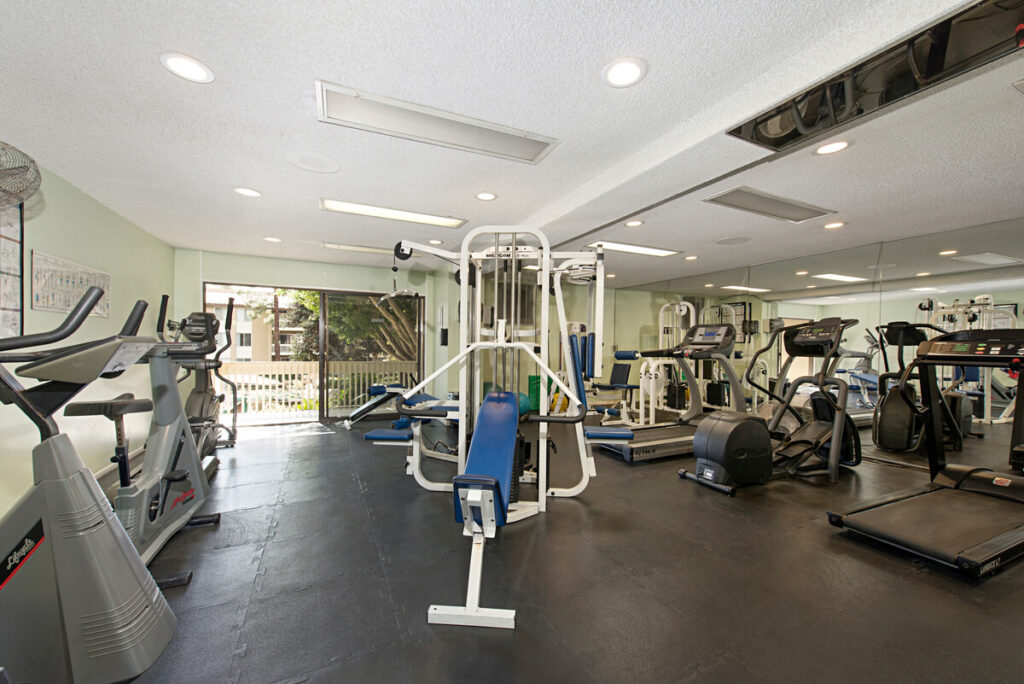 Gym
The gym is located within Court 1 (near this unit listed for sale). The gym has two bathrooms and a balcony.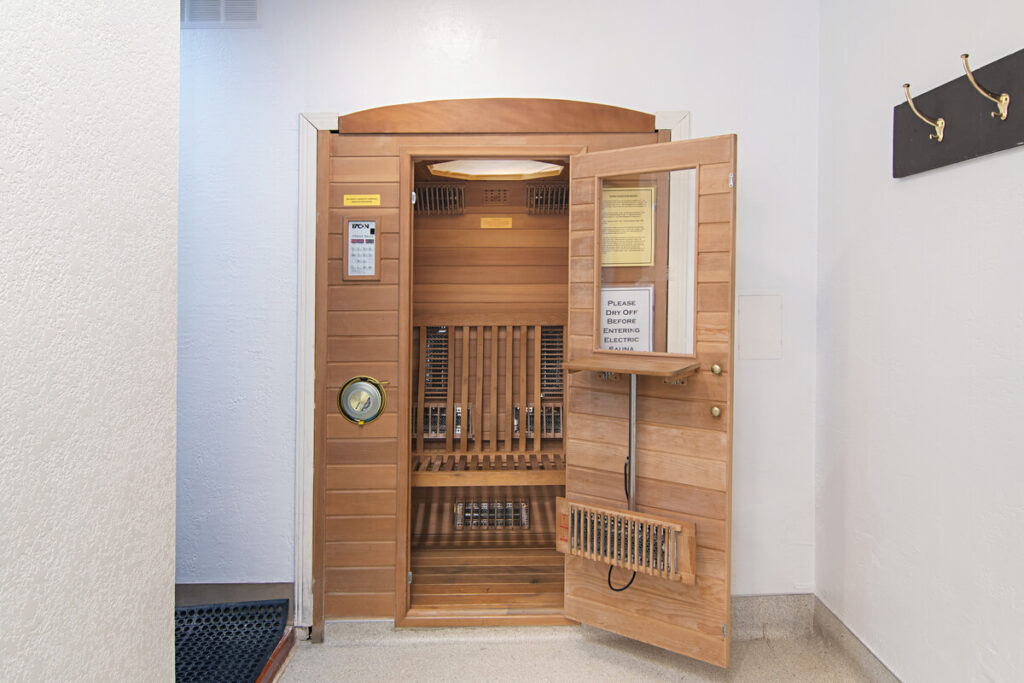 Sauna
Within each of the gym bathrooms (male and female) there are two seater saunas.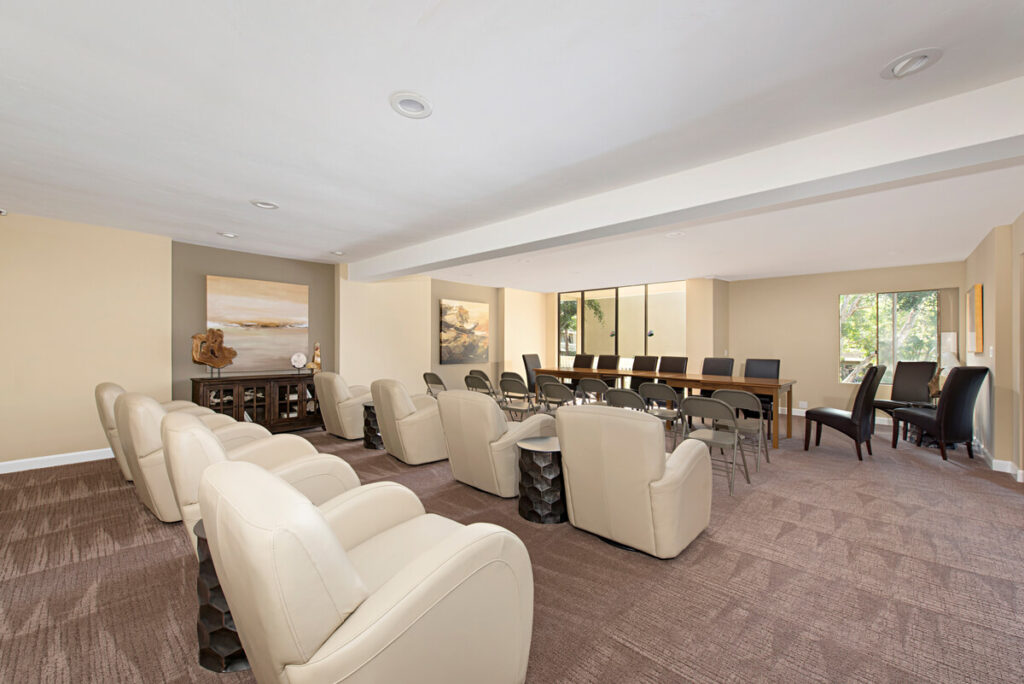 Residents lounge
The residents lounge is used for board meetings and also for movie night. It's been beautifully remodeled and upgraded with comfortable chairs.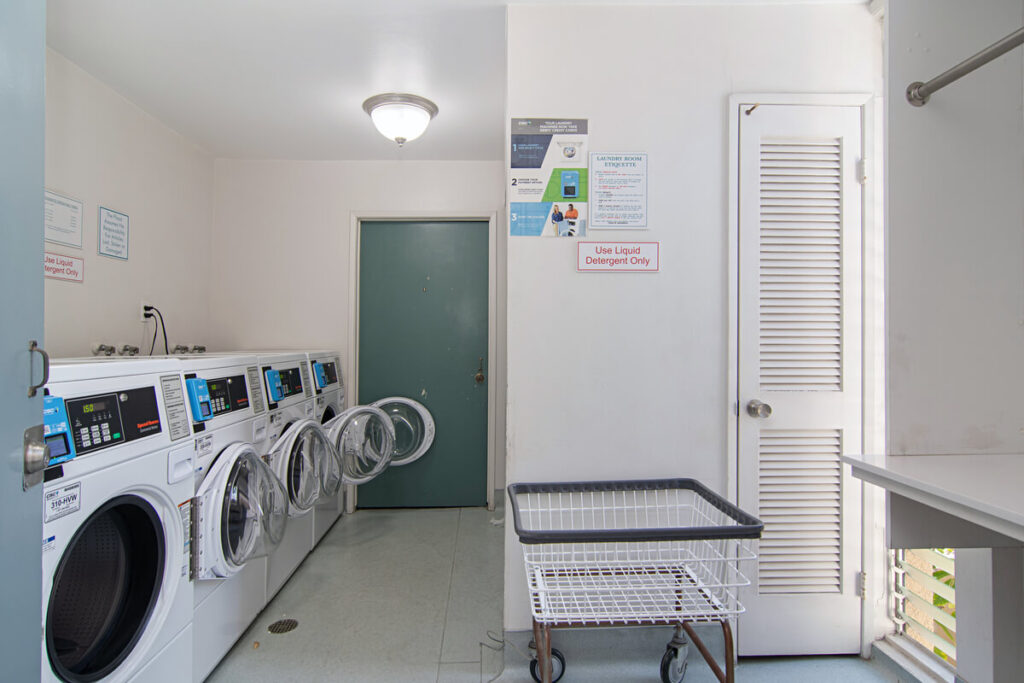 Community Laundry
Each of The Plaza courts has a laundry room on each level. The laundry rooms have hours of operation and rules to keep them clean and efficient.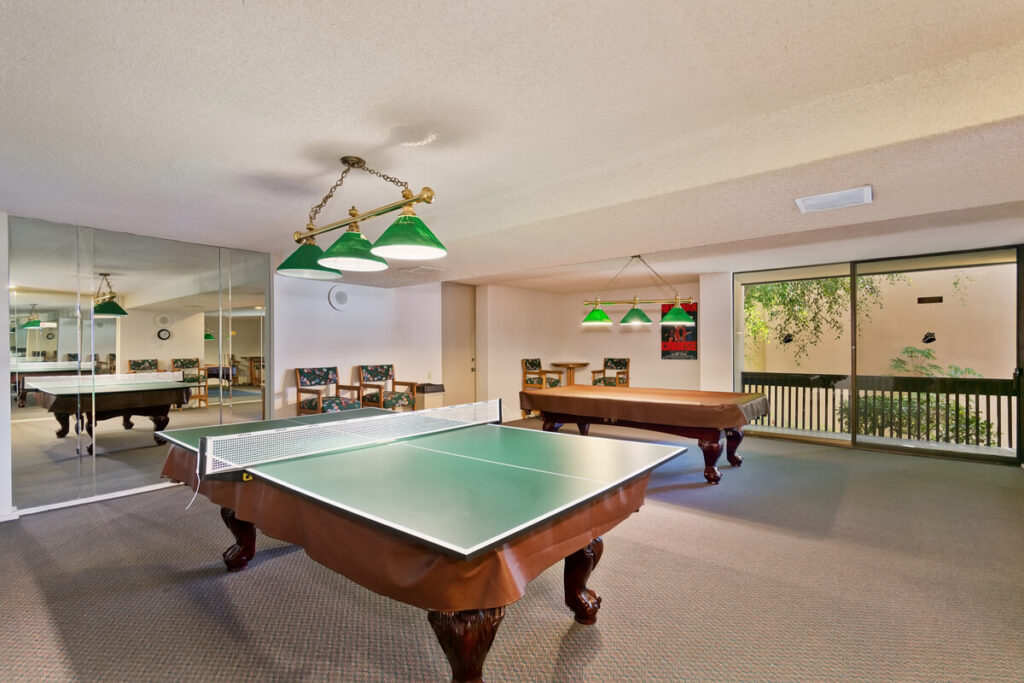 Billiards room
A spacious room houses two pool tables with an attached balcony. The billiards room is located near the mail room and library, in the central hub of the Plaza. The Plaza also has a ping-pong convertible topper.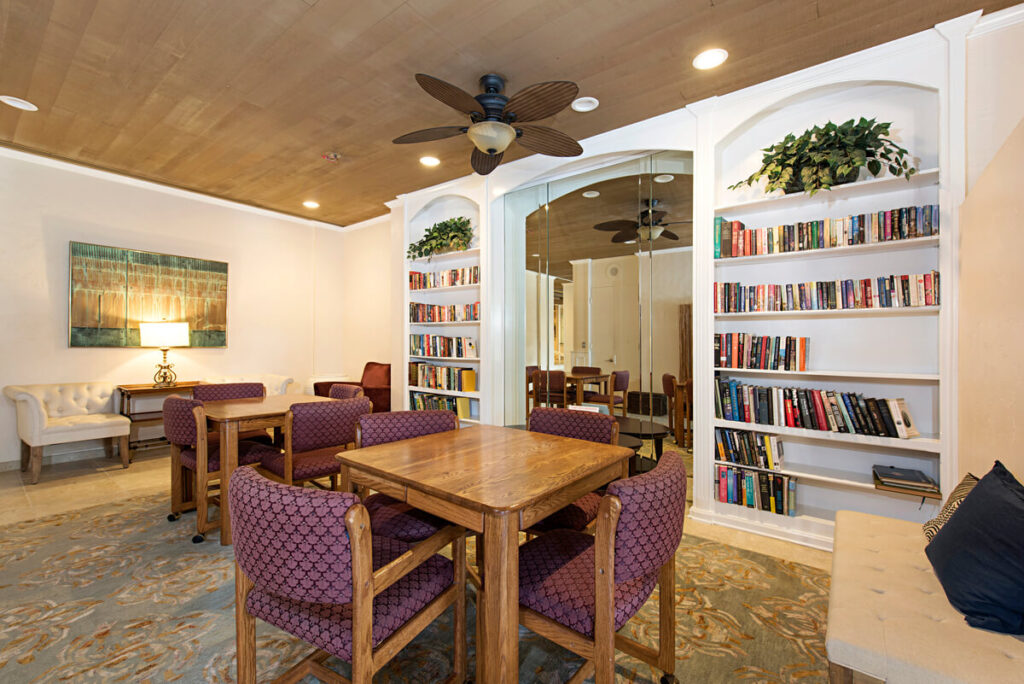 Library
If you need to study or get out of your condo, the community library has comfortable seats available for you to do some work or relax.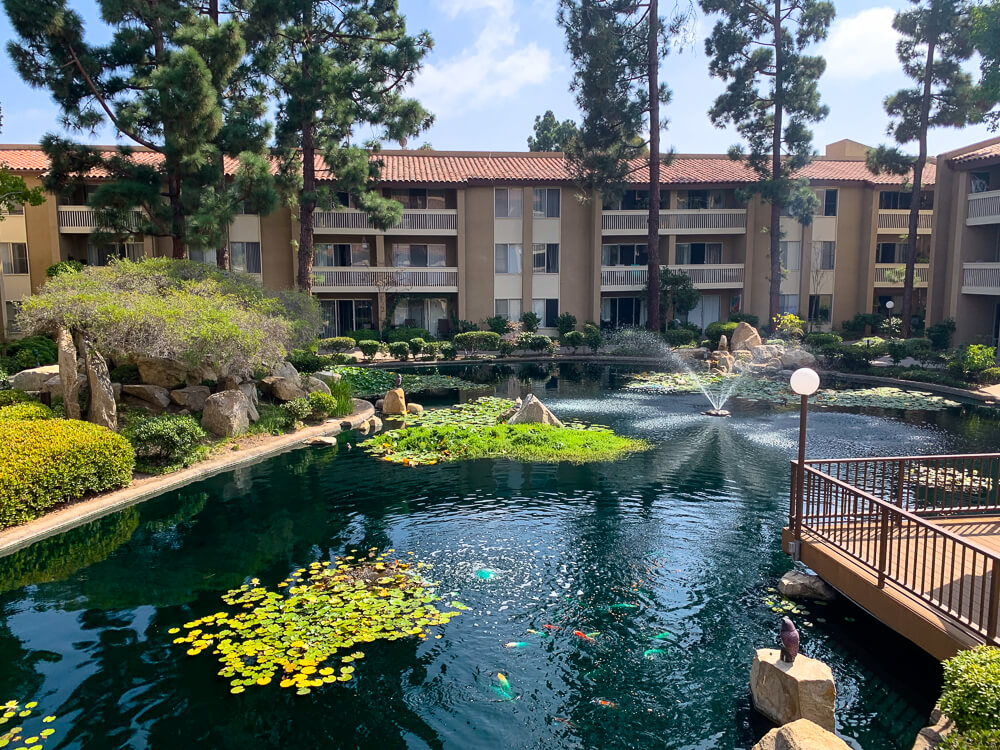 Lagoon
The lagoon houses Koi fish and turtles and has a beautiful fountain. Living in the city and in a large community can be a lot to handle. It's really nice to have a beautiful lagoon and peaceful setting located in the center of the complex. The deck can be reserved along with an inside bar area for events.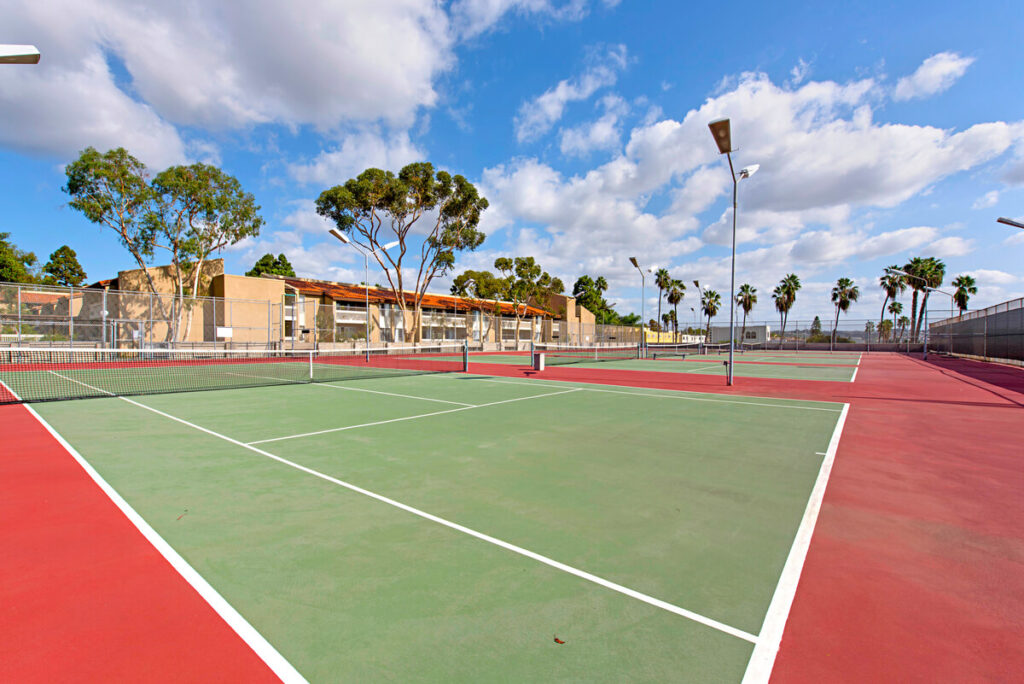 Tennis courts
There are 5 tennis courts that have lights for night games and a view of the beautiful bay. The elevation gives these tennis courts a luxurious feel, and some of the best views in town from a tennis court. They are located in the southeast section of The Plaza.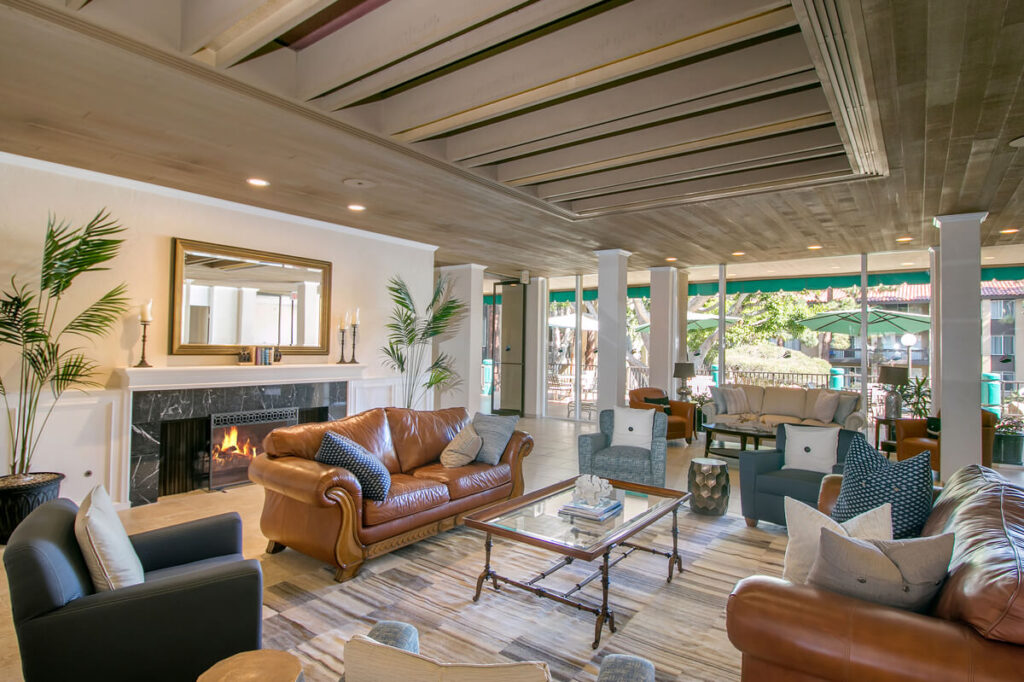 Lobby
The recently remodeled lobby area is located near the main entrance. This area can be rented out for group events along with the attached bar area. This area was recently renovated with new tile flooring and decor.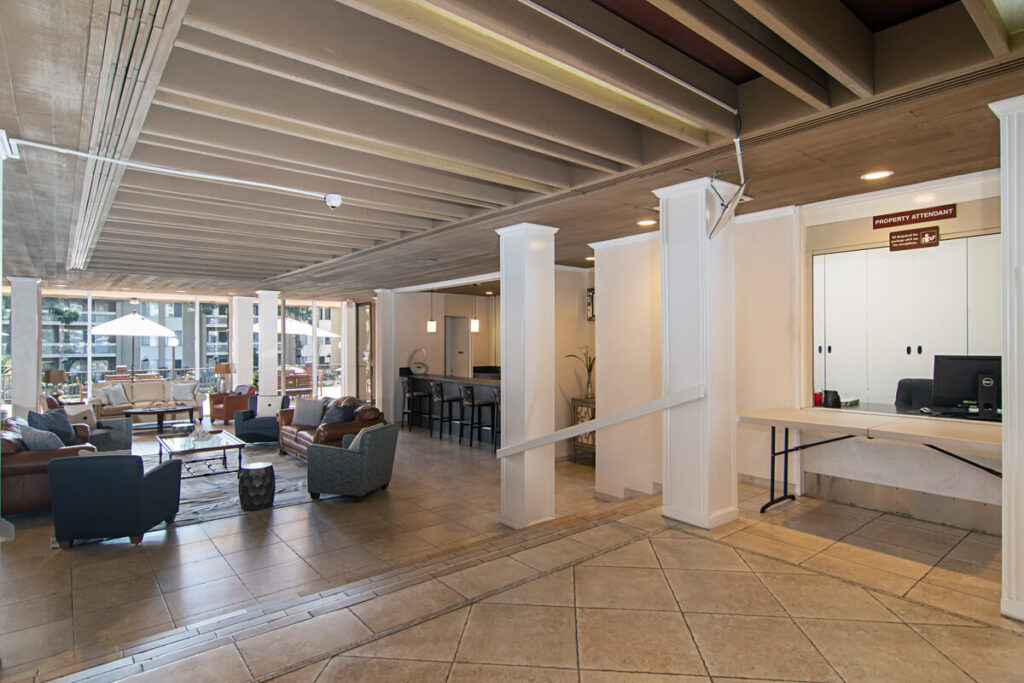 Property attendant
There is a security guard (aka property attendant) on the premises 24 hours a day Saturday and Sunday, and 3pm – 7 am Monday – Friday. This provides residents a great resource for questions, general help, and helps keep the plaza clean.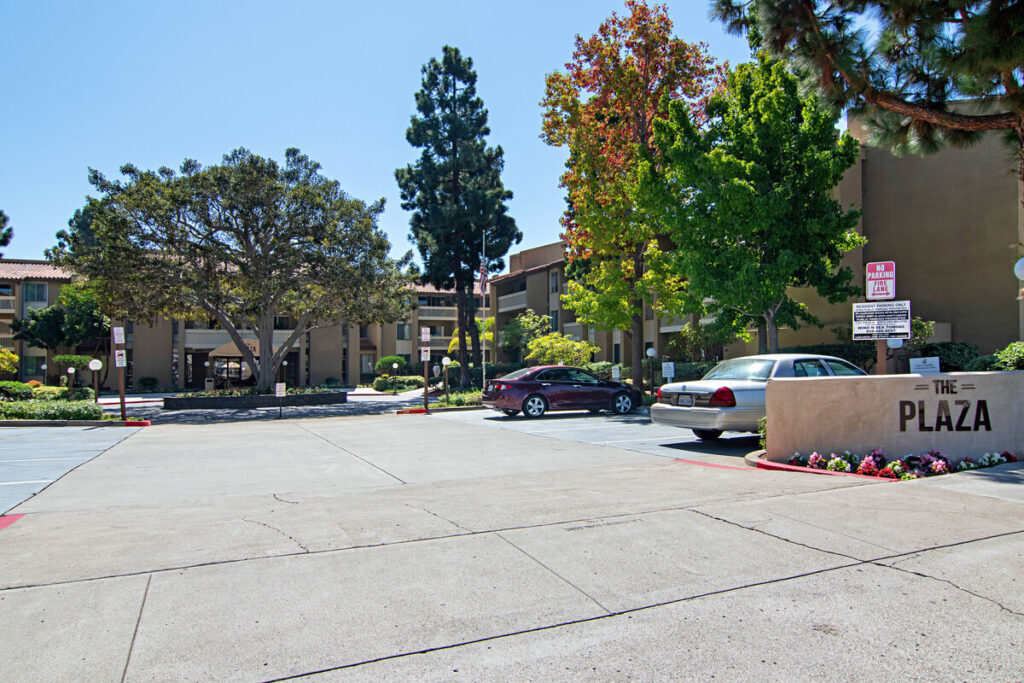 Guest parking
Located at 1801 Diamond St is guest parking for 10 vehicles and a circular driveway with a beautiful tree near the lobby entrance.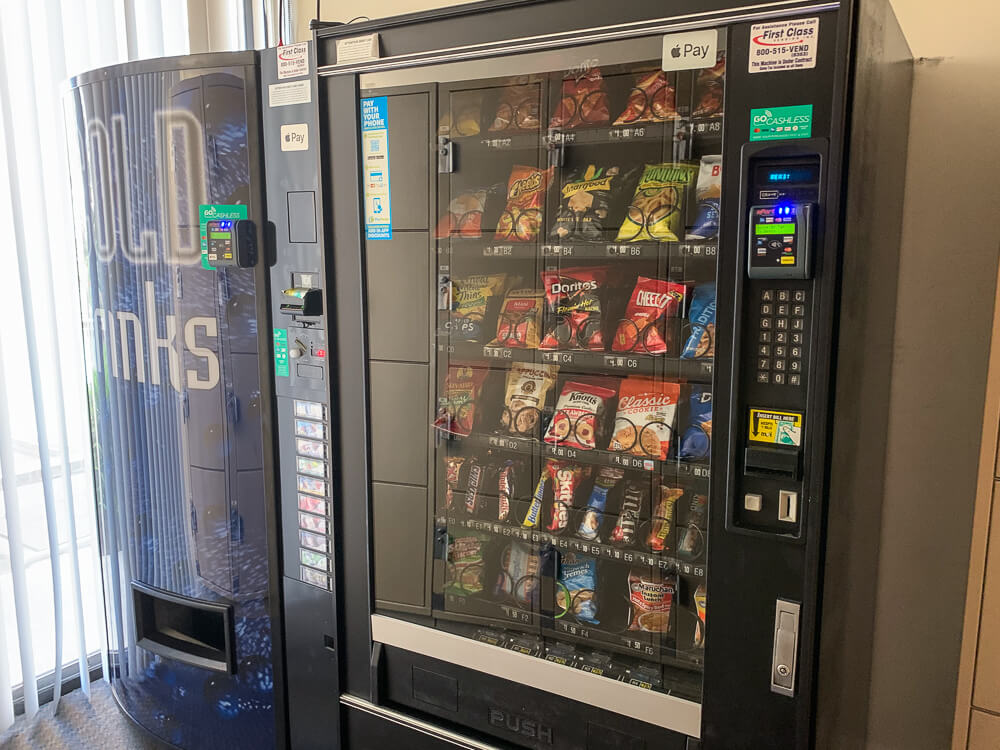 Vending machines and package room
Package security is important in our world dominated by Amazon shopping. The plaza allows delivery vehicles easy access to the community package drop-off, which is monitored to minimize lost or stolen packages.
As a bonus, the plaza also has two vending machines for your snack cravings.
There is a new package room located in the "Diamond Room" which houses the bigger packages.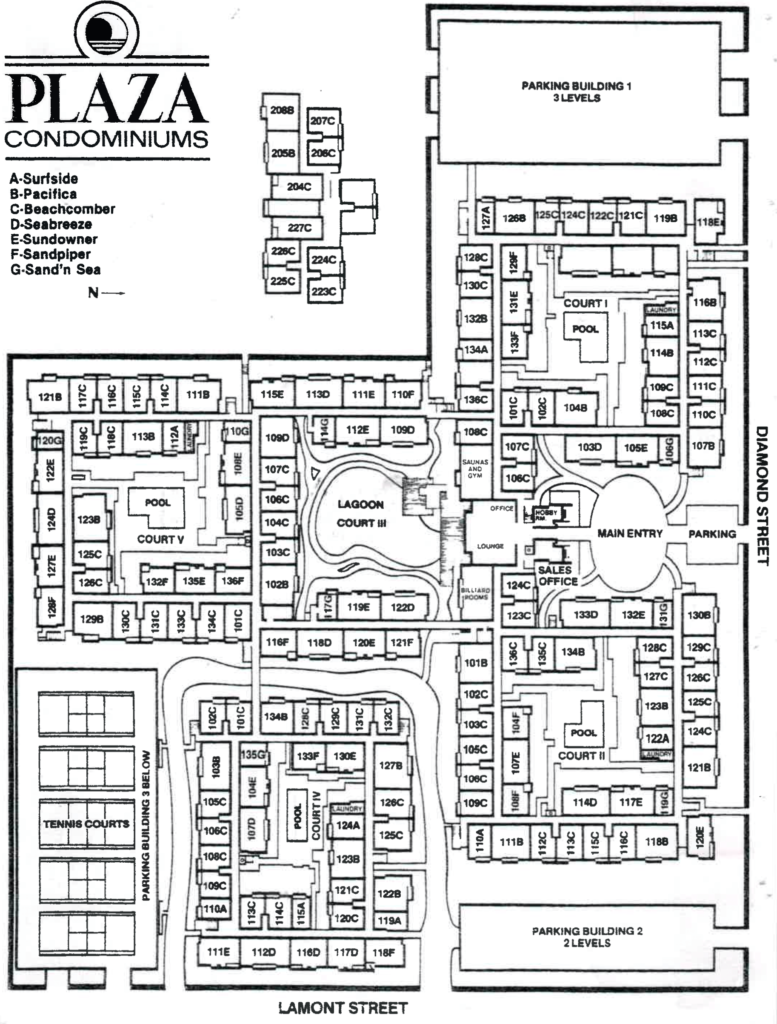 Location for The Plaza condos
The Plaza is located in central Pacific Beach, between Jewell St and Lamont St, and taking up most of the city block on Diamond St. It's easy to walk, bike or drive to the beach or bay. The Plaza is also adjacent to the PB Plaza shopping center which has:
Vons
Starbucks
Nail Salon's
Trader Joe's
Many restaurants
Jamba Juice
Charlie's Bread
UPS and Fedex
All of this is within walking distance.
Recent renovation
From 2016 – 2019 the Plaza underwent a large-scale remodel. Some things that were upgraded:
New plumbing throughout the complex with installation of water shutoff vales for each set of units (1st floor – 3rd floor are still connected)
New energy efficient lighting
Hallway flooring and walls
Exterior paint and canvases
Trex fencing
Remodeled lobby and residents lounge
Lagoon cleanup
Resurfacing of hot tubs and removal of gates
Garage lights upgraded to LEDs
AT&T fiber optic installation
New key fob system
New security camera system
Front office remodel
Main lobby bathrooms remodel
Men's gym bathroom remodel
Resources
The community website theplaza.org contains resources for home owners like rules, regulations, and other documents. You can also access the monthly minutes from HOA meetings and the weekly newsletters.
The Plaza condos rules
No short term vacation rentals are allowed. Minimum of 30 day leases.
A "no pet policy", however ESA's and service animals are allowed.
Balconies must be kept clean.
Noise restrictions for night time.
Call (858) 740-8495 for more information