I recently had a client ask me to help them find out how they could get into the San Diego real estate market on a tight budget. The client has a lot of toys and two dogs, so he wanted some land. He loves to surf and enjoys the beach, but coastal zip codes were too expensive for the amount of space he wanted. The options within his price range were to buy land inland or a condo closer to the water. He decided to buy an undeveloped piece of land in Ramona, which is in East San Diego County.
In this post we will go over the process to buy land in San Diego, and how to eventually get a home on it.
Resources:
Here are some of the steps:
Find cheap land for sale in San Diego
After deciding to buy land instead of a condo, we had to find out what areas of San Diego have cheap land for sale. An average plot of land in Pacific Beach can go for around $1,000,000, so that was off limits. Parts of East, North and South county have acreage that sell between $50,000-$300,000 (and higher for lots of acres).
After looking at various options, my client decided that he loved the town of Ramona. The town has a good amount of businesses, restaurants and shopping. Having access to goods, food and services while still living on acreage was very appealing.
View land for sale in San Diego
Buy land in a good location within the town or city
One of the best things about buying land, is that there are a lot of options. Options for how to develop the land, how small or large you want the property to be, how "off-grid" you want the property to be. You can customize every part of the property.
One of the worst things about buying land is also that there are so many options. Researching land can be confusing, time consuming and a ton of work.
There are many rural areas of San Diego County that have undeveloped land available for purchase. There are pros and cons to having close proximity to town. Privacy and acreage are easier to find farther from town. However, access to businesses, fire protection and utilities gets worse the farther away from town your property is.
What if you don't want to drive 30+ minutes into town?
Finding the right piece of undeveloped land for sale is one of the most time consuming jobs of residential real estate. If you want land close to town, with better access to roads and utilities, finding a perfect piece of undeveloped land for your situation can be tricky.
If you have the time to wait for the right piece of land, finding something closer to town may be the best option for you. Land close to town tends to get developed faster than rural plots, so there's usually fewer undeveloped plots of land closer to town.
How long does it take to build a home after you buy land?
If you are willing to buy land and develop it, you have to allow for a lot of time to finish the project. Buying a built home (termed a "resale") can take a few months. Buying land and getting it developed can take 6-24 months (or more).
Patience can really pay off, since finding the right combination of privacy, proximity, and access to utilities can have an affect on many years of living, and hundreds of thousands of dollars.
Living closer to town may mean closer proximity to a contractor who will build your home. At the very least, it's a lot quicker to visit the local hardware store.
Can you buy land with a loan?
The easiest way to buy land, or any property, is with cash. Lenders have a lot of products available for condos and houses, but land is different. Often times land loans will have higher interest rates or have other requirements, like experience in developing land. Talk with a lender to decide if you can buy land with a loan.
Is the land buildable?
Land needs to be buildable in order for it to have value to buyers who are looking to build a home. What does buildable mean? It means that the piece of land is situated in a way, with lot lines, easements, slope, setbacks, and zoning, that allow for a home to be placed on the property without crossing any of the boundaries or breaking any of the zoning regulations.
A lot of research goes into deciding the best use for a piece of land. Talk with a realtor to learn as much as possible about the land. After learning about the known information, the buyer is responsible for doing their own due diligence (research) in finding out if the piece of land will work for their situation.
How do you know if the land you buy is the right size or dimensions?
Surveyors are available for hire to measure the land. You want to make sure the piece of land you see with your eyes is similar to what is on record with the city. It's not unheard of for there to be slight differences, especially if the recorded document was made a long time ago. Sometimes neighbors build fences over the property line. Land can also have utility or access easements with neighboring parcels.
Check the zoning and confirm the land is buildable
The county, city and town may have rules regarding how the land is zoned and how big of a home/what type of home can be built. San Diego Development Services has an entire department dedicated to this.There is an "maximum size of home" : "size of land" ratio that dictates how big of a home can be built on a piece of land. Some of these ratios will change from city to city, and town to town. There are other restrictions which may limit the size due to parking requirements, or height requirements (like the Coastal Commission in San Diego).
Getting ready to write an offer
Before a buyer makes an offer on a piece of land, they should have a written budget that allocates the costs of development.
A realtor should be able to provide a list of recently sold land nearby. Land can be extremely different, but hopefully the comparable pieces of land are similar to the piece of land you are interested in.
Size is the obvious variable to compare, but there are other important characteristics to look at when you are going to buy land. Access to utilities, roads, distance from town, views, grade (how level the land is) and specific zoning will dictate the value of the land.
There is a combination of "market value based on past sales" and "you finally found a buyer and in order for the land to work, the price needs to be X."
How to buy land at the right price. Finding value.
Buying land has a great deal of math involved. Since a buyer usually wants to construct a house or develop the land, a budget is needed to figure out what portion of funds is to be allocated to the dirt.
We will go over some of the usual expenses when buying land.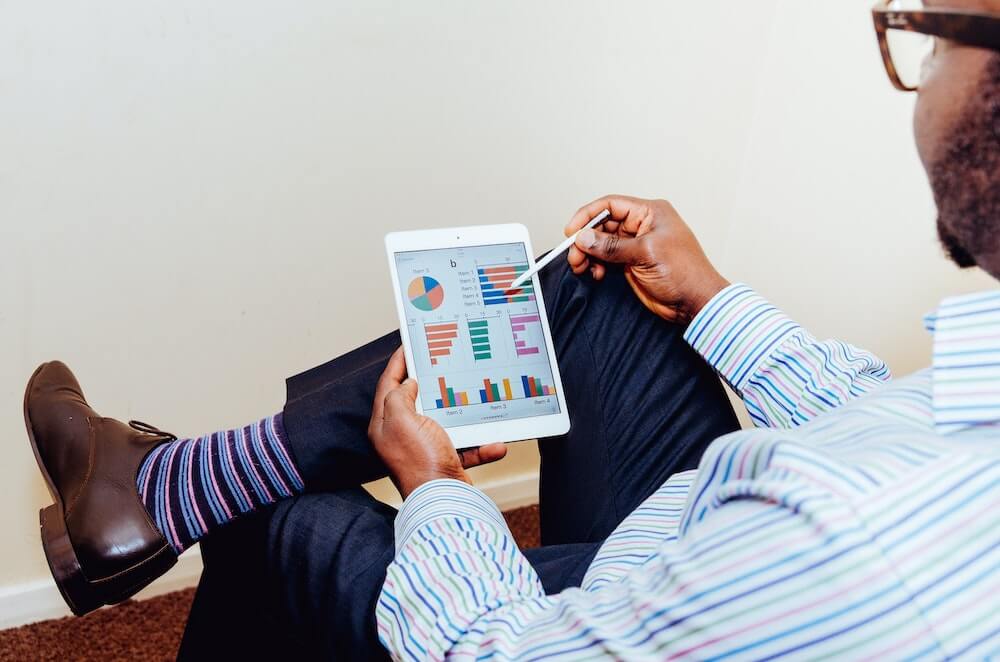 Calculating a budget
I like to use Google Sheets for creating a list of expenses. The cells can be summed or subtracted easily, and it's available for access via the cloud.
Does the land have access to utilities?
Many of us take it for granted that we have electricity, gas, water, cable services and a sewer connection. These utilities were not always so easy to attain. In rural towns access to these utilities may require a large investment in time and money.
The city of San Diego has rules regarding some of the below services. The San Diego department of Environmental Health is a necessary resource for these types of projects.
Well vs. City water
Wells can provide access to underground water. The water table for each property is different and will require a well specialist to determine if it's feasible for a well to be installed. Well installation is fairly expensive and requires a filter and powered pump to access the underground water in a safe way.
Access to city water can also be very expensive. If the closest access to city water is far away, you will have to pay for the city to bring their water to your new property. While the city can provide a simple hookup to homes that are already connected to city water, connecting the plumbing for city water to access a rural home can be costly. City water is regulated and has many engineers that do their best to make sure the quality of the water is OK.
Well: $10,000 – $20,000 for setup, but can vary substantially. Usually needs to have a pump powered by electricity. Has a filter to make the water drinkable. Will need some maintenance over the years, but no "usage fee" (the water will be free once you have access to it).
City water: Setup cost really depends on a lot of variables. Could be around $20,000 or more. Has a hookup fee and usage fee (you are paying for the water). Quality of water is maintained by city.
Your choice will depend on the property and which option is easier.
Check status of electrical and gas
Electricity and gas have similar issues as water. Power and gas lines are sometimes available close by, but sometimes will require substantial work to bring to your land.
Talking with the local power company and discovering what it will take to get power to your property can take time, and sometimes thousands of dollars. The cost for their research will sometimes go towards the final cost to bring a power line to your land.
Example: SDGE charges $1,800 for an engineer to do a report on bringing electricity to your land. If you decide to go forward with the proposal, the $1,800 could go towards the installation fee (which is sometimes $5,000 – $20,0000, or more).
Sometimes neighbors will have transformers on their property. This may be the shortest route to a source. In order to access their electricity, you will need permission in writing.
Solar and propane vs. SDGE
If city utility access is going to be expensive, installing solar and propane may be your best bet.
Solar has become more popular recently. Home batteries are cheaper, more reliable and more efficient. The number of companies that do installation has also increased. Depending on your specific set up, and if you have access to the cities power grid, you will most likely need solar panels and batteries to store the electricity.
Solar panel installation can vary in size, quality, and placement. A system to power an entire house may cost around $20,000 in panels and $20,000 in batteries. You will have to do research to find out what setup is best for your piece of land.
Propane tends to be a bit cheaper. The setup of the container needs to be done properly to insure safety. There are many companies that will install a propane tank and help setup the connection to your home. The cost for propane could be around $2,000 – $5,000 for installation.
SDGE: Monthly usage fees for consistent supply of electricity and gas. Potential large upfront connection fee.
Solar and Propane: Large upfront setup fee. Batteries need to be replaced every 5-7 years and can cost $4,000-$6,000 each (you may need a few batteries). Solar provides free electricity while there's enough sun. Propane needs to be refilled, but no monthly fees unless you sign up for a subscription service.
How do I get rid of my waste? Sewer or septic?
Sewer access allows your home to dispose of waste away from your property, through the sewer system. Similar to accessing city water, or electricity, connecting to city sewer lines can be very costly depending on how far away the plumbing is.
Septic systems consist of a septic tank, which breaks down waste, and leach lines, which direct the diluted waste into the land surrounding the leach lines. Septic systems are common in rural towns because they tend to cost less than connecting to the sewer.
Costs can vary depending on the size of the system but an estimate for septic installation is $8,000 – $20,000.
How level is the piece of land
Grading will generally need to be approved by the city and will allow for a level foundation to be poured. Extremely hilly or mountainous pieces of land will require extensive grading and debris removal. Rocks, boulders and trees are common debris and may require additional work and disposal.
Grading costs will depend on the land and can potentially be bundled with other costs.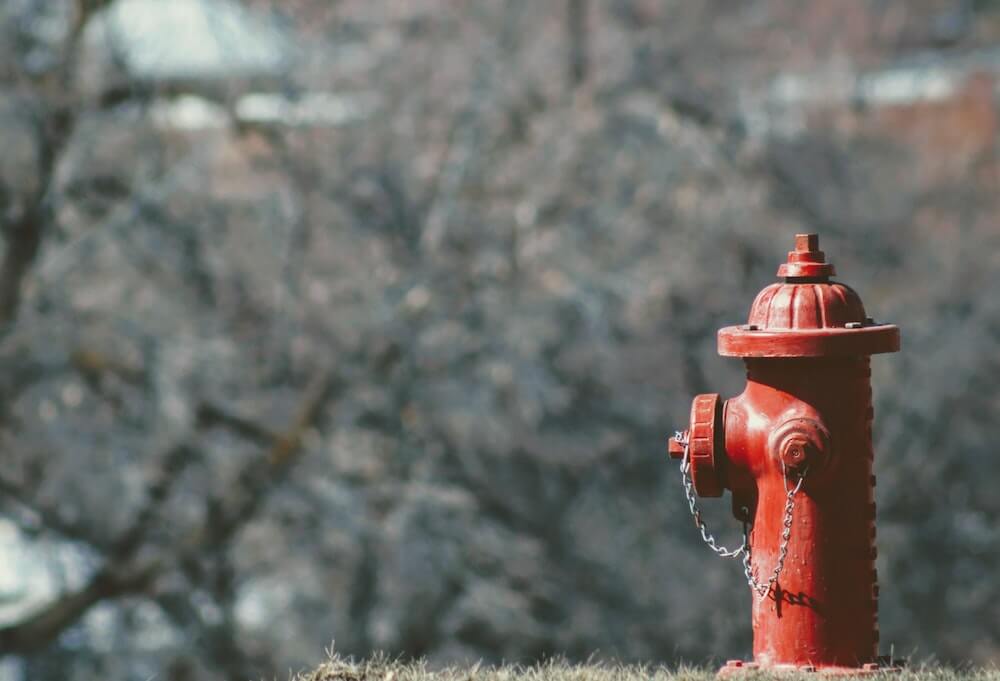 Fire safety access
Depending on the land's location and how developed the neighborhood is, fire insurance premiums may change. Locations closer to town, with better access to fire hydrants will have lower insurance rates due to a lower risk of fire.
Additionally, if the land does not have fire safety access, the city may require you pay for it, and possibly other things like sidewalks.
Options for dwellings
Most people buy land with the intention of putting a structure on it. Dwellings could include your primary home, garage, warehouse or any secondary structures.
There are a lot of options when it comes to putting a home on your land.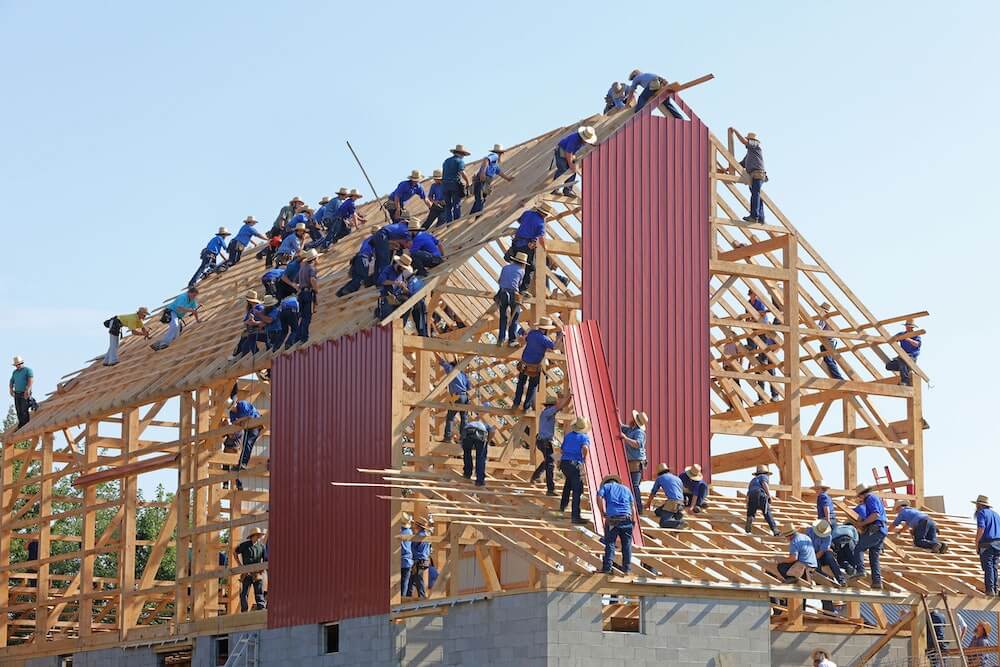 How big of a home do you need?
Deciding how big of a home you need can also determine your utility setup. Septic systems are usually designed to match the number of bedrooms/bathrooms, and solar systems are usually calculated by estimating how much electricity or air conditioning you will need.
You have probably seen the "tiny homes" on tv. Putting a portable trailer on a big piece of land is getting more and more popular. Using the land for animals and crops, and minimizing material items can be a very affordable option. You will need to check with your town to make sure this is acceptable. You will also need to find out what utilities can work with your setup.
Two of the more common options are building a home from scratch, or buying a prefabricated home.
Custom home vs manufactured home
Building a custom home is a lengthly topic. To summarize quickly:
Custom homes can take a long time, tend to go over budget, but have the unique characteristic that's almost impossible to achieve with alternative options: it's made completely to your specifications.
The building materials, architecture and floor plan can be whatever you want. There's a price for this luxury, but it's pretty darn cool.
An alternative to doing a custom build is to buy a manufactured home. Manufactured homes are similar to what you find in mobile home parks. The phrase "mobile home park" can leave a taste in your mouth of "cheap" and sometimes "trashy". However, some manufactured homes are very nice and can be hard to tell apart from a single story custom home.
"The 'HUD Code' formally regulated production safety and quality and stipulated that official documents should refer to these types of homes as manufactured homes. So, "mobile homes" refers to homes built before 1976 and "manufactured homes" refers to those built after 1976 under a higher set of building standards." Here's a great article talking about the differences.
There are a lot of options for manufactured homes. Again, it could be a whole other blog post, but to summarize they can be an affordable option to make your land livable. You just want to make sure they are done the right way.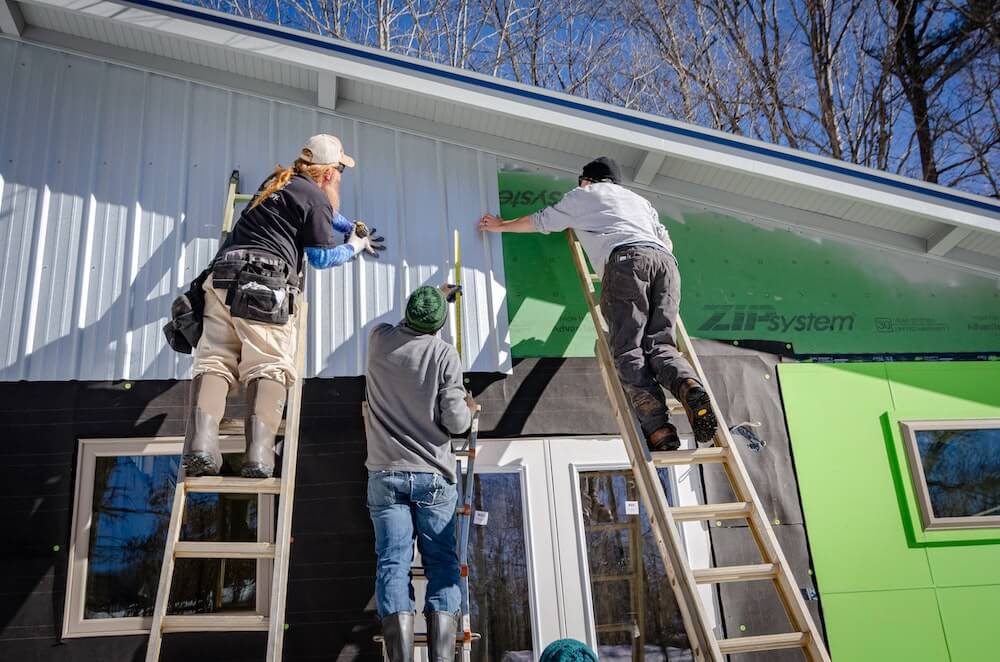 Buy land – make a home. How your investment can make you money.
There is a small population of people that buy land. Most people want to buy a home, move-in, and go back to their normal life. The time, money, and energy it takes to build a home is not for everyone. If you do it the right way, your property may be worth more than the dollar amount you paid for the land and home. Custom houses can make this difficult, because of the extra expenses involved with some customizations. Low cost builds can create real opportunities to exchange your time and labor for equity.
Check with a lender to make sure your property can be bought with a loan in the future. Some loans will require manufactured homes to be set up in a specific way in order for the next buyer to get a loan.
Example: Original buyer puts a manufactured home directly on the dirt of their newly acquired piece of land. In several years, the owner decides to sell, but the new buyer of this property cant get a loan. If the original buyer had poured a foundation, upgraded the manufactured home to meet loan requirements and followed lender guidelines, the new buyer would be able to get a loan.
Building a home the right way can substantially increase the "buyer pool" for future sales.
If you are going to buy land in San Diego in the near future, consult with as many professionals as possible. Real estate agents, local contractors, specialists for well, septic, solar etc. . . should all be contacted to learn as much as possible.
Why some real estate agents don't want to help you buy land
Finding a good real estate agent that works with buyers of land can be hard. I will try to explain why.
Parcels of land can be 30, 60 or even 90 minutes away from each other. Sometimes options are in different towns and cities. While many realtors will tell you they cover many areas, driving all over to look at a piece of land that doesn't have much to see (to the naked eye), is usually not a great use of time.
While buyers should always consult with a real state agent before visiting a property, buyers can probably get a good idea of the piece of land on their own. It's important not to trespass, but some pieces of land are able to be viewed from the road, or while on public property. Depending on the size, this initial look may be enough to either cross it off your list, or decide if you would like to dive deeper and ask questions.
What do realtors get paid to sell land?
Not only does it take a lot of time to research land, but because most land is undeveloped, the prices are relatively low. Low prices means smaller commission checks for the agent. A lot of work and a small check, is not a good business model for a productive realtor.
For comparison, a realtor can show a $500,000 home, which is already built and just needs to be inspected, and their gross commission (around 2.5%) will be around $12,500. In comparison, a piece of land may sell for $100,000 and have a $3,000 commission (commission rates tend to be slightly higher for land). These gross commissions are usually split with the office and then then taxed.
With land, a lot of research goes into zoning, build-ability, utility access, and future planning of the build. With a home, a lot of research can go into inspections, but there is rarely a need to do a lot of research with the City or County of San Diego.
Hopefully this gives you an idea of why so many realtors may roll their eyes if you ask to help them find a cheap piece of land.
View land for sale in San Diego